Dan, I remember watching Neal Tadlock race his red # 99 '32 Ford coupe in the early '60's at both Playland & Sunset. Neal's # 99 coupe & Ed Ripley's # 64 red '32 coupe had identical color schemes; red with white numbers, both had "Ripley's Service" on them.
Neal was from Ralston.
His grandson Jason works at Velocity Indoor Karting in Omaha & is a great young man. Jason has raced IMCA 4 Cyl Sport Compacts and Hobby Stocks at Eagle (# 99 of course). He is in the process of building a new Hobby Stock to race at Eagle in 2010. He recently went to his Grandma's & was able to obtain these neat pics. They are posted on Jason's facebook page.
Next is my description of pics for you:

1) 1963 Sunset Drivers, Officials: Front Row, L to R: Unknown; Stan Cisar Sr; Ed Rydberg (# 82); Leroy Watson (# 84); Glenn Robey (8-ball); Unknown, Don Williams (Bob Kosiski's brother-in-law); Unkown; Unknown.
Middle Row, L to R: Bob Kosiski (# 53)(wearing jacket); Unknown, Keith Leithoff (# 49); Unknown; Unknown; Jim Wyman (# 14, 1963 Sunset Point Champion with trophy); Bud Burdick (# V-8); Unknown.
Back Row, L to R: Unknown; Possibly Neal Tadlock (# 99) I'm not sure which one is Neal; Unknown; Unknown; George Odvody (# 45); Bob Cave Sr (# 7). I know Stan Cisar & others could recognize more of these folks.
2) 2Car Tangle At Sunset: 99 Neal Tadlock & 86, either Taft Larson or possibly Don Ronk, who did drive 86 some at Sunset
3) 99Doing Battle At Sunset: What a great shot. Taken in 1963, this is obviously on Sunset's front straight. # 81 is black coupe, yellow numbers driven by Bob Ewing. Lighter car between 81 & 32 is possible '34 Ford coupe # 10 driven at that time by Don Murcek, whose dad Ed owned/maintained car. For the life of me I can't remember who # 32 is. # 69 is yellow sedan driven by Walt Ahrens. Bud Aitkenhead drove it a few times also.

4) 99 In Trouble At Sunset: Neal Tadlock in 99 is about to go on his side. I think # 56 was possibly driven by Gene Zulfer, but I could be way wrong. Car in middle with unseen number is green # 4 driven by Ed Janisch. # 49 is Keith Leithoff, whose Chevy coupe was obviously powered by Chevy 6 cyl. In 1963, rules allowed only flathead V-8s. 6 cyls could be overhead or flathead. The # 53 that Bob Kosiski drove that yr was a '33 Dodge couple with a Chrylser "Spitfire" flathead 6.

5) 99 Off Track At Sunset: Neal's # 99 between track & pit fence (not wanting to be there)

6) 99On Track, 95 Off At Sunset: Good shot of # 99 on track at Sunset. # 95 was burnt-yellow '32 Ford coupe driven by Ernie Bonney Sr. Looks like 95 is making unwanted detour, spraying dirt along the way.

7) 99 Taking Early Exit At Sunset: Looks like Neal exited prior to turn 3. Only other car I know is # 95 of Ernie Bonney Sr. # 52 appears to be a Henry J, but I don't know who is driving. Black 82 is someone other than Ed Rydberg, as Ed's # 82 was always white. Sorry, don't know who # 83 is.

8) Everyone Excited About Neal Racing: Even the dog. Looks like this cherry '39(?) Ford coupe is awaiting a trip to Playland, as the RF tire sure looks like an asphalt slick. Assuming young lady is Neal's daughter.

9) Future Driver: Neal's daughter?

10) Hitched Up Ready To Go: Looks like '48 Chrysler tow vehicle, '39 or '40 Ford hitched up to go racing

11) Kids Like Racing Too: Neal's daughter(?) with car ready for Playland
12) Let's Go Racin: Wonder where that motel is or was

13) Neal 99 At Pre-1954 Playland: Pre-1954 because that's when Playland was asphalted. Talk about a "Street Stock" Class. Neal is # 99 last row inside.

14) Neal 99, Bob Womochil 3, Ed Rydberg 82 At Playland: This is my guess 1960 or '61. You can tell it's Playland by the stripe on the inside of the inside lane. At least in this shot, cars don't appear to be damaged too badly.
15) Neal 99, Mike Dizona 76 At Sunset: Hey, I might have messed up. Could be Playland instead of Sunset; not sure on this shot. Mike Dizona's car was dark blue with white 76.

16) Neal Exiting 99 On Its Side: Looks like possible aftermath of Pic # 4, 99 In Trouble at Sunset

17) Neal On Front Straightaway: Great shot of Neal's cool # 99 coupe at the place that should have never gone away.

18) Neal Tadlock '48 Ford: Are you thinking like me that this could be the family car ready to do battle?
19) Neal Tadlock Coupe: Poised at home, ready to head to the battlefield.

20) Neal With '48 Ford: Those were the days

21) Time To Go Racing: This # 99 is hitched up to a sweet looking '51 or '52 Chevy.

22 Very Serious Front Bumper: About as serious as you'll see

23) WH Playland Article: Interesting Omaha World Herald article. Car is obviously mid-50's "Late Model". Wish pic showed whole car; wonder how many races it ran at Playland with Neal driving.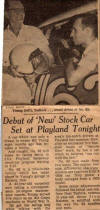 Dan, I hope this is useful to you. Feel free to use any or all of this e-mail to post on site as you see fit. I hope this will ignite a spark with some of the folks out there who could have treasures similar to Neal's. Big thanks to Jason for sharing. Big thanks to Dan Franks for all of his hard work.
-HK